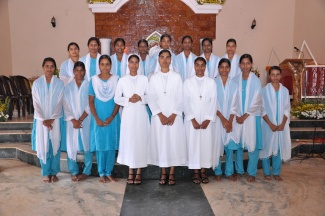 When all the sweet experiences hide behind the veil of the memories ….. We open the windows of GRATITUDE.
On the 22nd of February Jesus has showered His abundant mercy upon us. Because with His special gaze upon us ,He has chosen three of us as His brides .'It is not you who have chosen me ; but I have chosen you' .'How can I repay my Lord for His goodness to me?' Yes, We have not enough words to thank Him. Through professing our vows We totally and only belong to Him. This truth takes us to the peaks of happiness.
Behind this joyful event there were the love and support of many people including our mistress ,our spiritual guides ,other sisters and fathers ,our parents, relatives, teachers and friends. We thank them from the depth of our hearts. But our happiness increased when we came to know that you remember us in your prayers. W can say with joyful hearts that your prayers gave us great support on the day of our profession. We would like to express our gratitude through a life with fidelity to our vocation. But for this we need your ceaseless support through prayers and advice. We also promise our prayers.
With a lot of love……………
With a lot of prayers……
With a lot of joy……………
With grateful hearts…… Sr.Soumya eam
Sr.Sherila eam
Sr. Liji eam